Family
Tin Hwang, Award Winning Las Vegas Family Law Attorney
Family law is a broad field that deals with legal situations that involve your marriage, children, and home. At Hwang Law Group, we strive to resolve our Family law cases quickly without sacrificing quality because we understand the emotional strain that often accompanies these types of legal matters. Ms. Hwang previously won "10 Best Attorneys" for exceptional and outstanding client service in family law by the American Institute of Family Law Attorneys. If you are looking for a Las Vegas family attorney that understands, look no further than Hwang Law Group.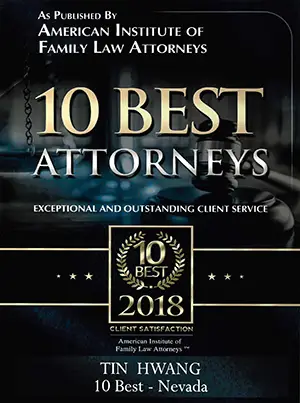 Help In Many Areas of Las Vegas Family Law
Our dedicated family law team has successfully handled a wide array of cases. The types of cases we are currently accepting include:
Uncontested Divorce
Pre/Post-nuptial Agreement
Property Settlement Agreement
Experienced Las Vegas Divorce Attorney
Did you know that approximately 75% of all family law cases at Hwang Law Group are divorce cases? Our experience in handling divorces makes us well-prepared to guide you through this stressful and emotional process. Understanding your legal rights and the divorce process is essential to ensure a smoother experience.
Residency Requirement to Get a Divorce in Nevada
There are two (2) requirements which must be satisfied in order to get a divorce in Nevada:
You or your spouse (or both) must have lived in Nevada for at least six (6) weeks before filing for divorce.
You or your spouse (or both) must also intend to remain a Nevada resident indefinitely.
The judge in your divorce case will require a family member, friend, or co-worker to sign an affidavit stating under penalty of perjury that he or she knows that either you or your spouse is a Nevada resident. Generally, an affidavit will be enough to satisfy this residency requirement. In some cases, the judge may request a court hearing if additional documents or evidence is needed to satisfy this requirement.
The Process of Divorce in Nevada
There are two (2) different ways to complete a divorce in Nevada:
Uncontested Divorce: If you and your spouse have agreed to 100% of the "issues" of your divorce, such as child custody, property division, or alimony, you may file a divorce together. These divorces are known to be quickly approved, and most often, there will not be any court appearance in front of a judge. Please read further below for a summary of "issues" addressed in divorce cases.
Contested Divorce: If you and your spouse cannot agree to all of the "issues" of your divorce, whether the disagreement is regarding child custody, property division, or alimony, either you or your spouse will still be able to start a divorce case in Nevada. In Nevada, as long as one spouse wants a divorce and claims "incompatibility", the judge will grant the divorce. Since each case may differ, the timeframe to complete this contested divorce depends on each case. Please read further below for a summary of "issues" addressed in divorce cases.
Divorce: Custody, Visitation, Child Support
If you have a child or children under the age of eighteen (18), your divorce will include issues regarding legal custody, physical custody, visitation, child support, health insurance for the child or children, child tax deduction, holiday/vacation plans, etc. At the conclusion of your divorce, there will be permanent orders from the court resolving all of these issues. In every custody case, both you and your spouse will be ordered by the family court judge to attend mediation at the Family Mediation Center to resolve these issues. If an agreement can be reached at the time of mediation, your mediator will draft up a parenting agreement. If an agreement cannot be reached at the time of mediation, the judge will decide and enter orders regarding these issues.
Divorce: Division of Assets and Debts
In the realm of divorce proceedings, property division takes center stage. Let's explore the concepts of Community Property and Separate Property, and how they influence the allocation of assets and debts during divorce in Nevada.
Community Property: In every Nevada divorce case, the family court judge will apply "community property law" to the assets and debts that are purchased or incurred during your marriage. All assets purchased and debts incurred during the marriage is presumed to be community in nature. This means that the judge will equally divide these community assets and debts at the time of your divorce. Remember, the key word is during, which means that it doesn't matter if the asset or debt is under your name only, or under your spouse's name only.
Separate Property: If you purchased assets or incurred debt before the marriage, the asset and debt will be designated as your sole and separate property. This means that at the time of the divorce, the judge will award you 100% of your separate asset or debt (though some exceptions may apply).
Important: Keep in mind that there are always exceptions to the rules. Our Las Vegas attorneys will be able to provide you with an in-depth review of your particular situation and advise you accordingly.
Examples of Assets: Houses, vehicles, bank accounts, investment accounts, retirement accounts, etc.
Examples of Debts: Credit cards, personal and private loans, tax debts, etc.
Divorce: Alimony
Alimony, also known as spousal support, may be awarded to a spouse either temporarily or permanently. There is no set calculation or percentage used by the judge in determining how much alimony should be paid to a spouse and for how long. Instead, the judge will look to various factors and consider many things, including but not limited to:
The length of the marriage.
The financial condition of each spouse.
The income, earning capacity, age and health of each spouse.
The standard of living during the marriage.
The contribution of either spouse as homemaker.
The career before the marriage of the spouse who would receive the alimony.
The physical and mental condition of each party as it relates to the financial condition, health and ability to work of that spouse.
Additionally, the judge will consider the "need" of the spouse requesting for alimony prior to granting any alimony. As mentioned earlier, alimony may be restricted to a limited amount of time which is known as "temporary alimony". It can also be awarded for the remainder of the receiving spouse's life which is known as "permanent alimony". Typically, permanent alimony will end when the spouse receiving alimony remarries or when either of the spouses dies.
If alimony is awarded in your divorce, the spouse paying alimony can ask the court to change the alimony later if his or her financial circumstances changes. This is also known as modification of alimony.
Call (702)820-0888 Today to Consult With Our Las Vegas Family Attorneys for Free
Before taking any legal action, it is best to understand and learn about your legal rights and your options with regards to your family law case. Our attorneys will be able to guide you in the right direction and may save you time and money in the long run.