Personal Injury
Tin Hwang, Award Winning Las Vegas Personal Injury Attorney
Becoming injured is stressful, whether that injury be the result of a car accident or a slip and fall at a hotel. Ms. Hwang previously won "10 Best Attorneys" for exceptional and outstanding client service in personal injury law by the American Institute of Personal Injury Attorneys. Have your case handled professionally so that you can focus on the vital task of recovery.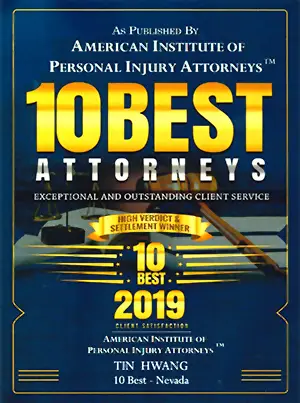 Help in Many Areas of Las Vegas Personal Injury
Our Las Vegas injury attorneys are ready and capable of handling many different kinds of injury claims. Listed below are our most popular types of injury cases.
Car Accidents
Slip and Fall
Motorcycle Accidents
Bicycle Accidents
Truck Accidents
Drunk Driver Accidents
Dog Bites
Why is Hiring an Injury Attorney Important?
Statistics show that handling your personal injury case yourself often causes you to lose out on as much as 10 times what insurance companies offer you. In many of our cases where our clients tried to handle the situation themselves, insurance companies would offer them a few hundred dollars to settle their injury claim. But after hiring our Las Vegas injury attorneys to take over their case, we turned what would have been a few hundred dollars into thousands.
Why Hire Our Las Vegas Injury Attorneys?
Our attorneys have years of experience regarding personal injury matters and we know how the insurance companies work. Remember, the goal of all insurance companies is to pay out as little as possible. Throughout the years, we've seen their tactics and we know how to deal with them. While it is possible for you to handle your injury claim without the assistance of an attorney, you could potentially be missing out on thousands of dollars that is rightly owed to you. Since our consultations are free, you have nothing to lose and everything to gain when you speak with our Las Vegas injury attorneys about your claim.
How Much Do Our Las Vegas Injury Attorneys Cost?
We require NO UPFRONT FEES and our consultations are free. This means that you pay ZERO dollars. Our law firm will place you on a contingency fee agreement which means that we don't get paid unless you win and receive a settlement award.
How Much Will Your Settlement Be?
The settlement that you receive as a result of your injury claim is highly dependent on the circumstances that surround your accident. No two cases are exactly the same. With that said, we always strive to get you the maximum settlement award possible and our contingency fee percentage is very competitive.
How Long Will Your Injury Case Take to Complete?
This depends on your medical treatments and the time it will take for you to complete the treatment plan as recommended by the doctors. On average, our personal injury cases take 6 months to 1 year to complete.
Call (702)820-0888 Today to Consult With Our Las Vegas Personal Injury Attorneys for Free
For any questions and to talk about your personal injury case for free, call (702)820-0888. Our attorneys will be able to guide you in the right direction and may save you time and money in the long run.